Aesthetic Anti-Aging Fellowship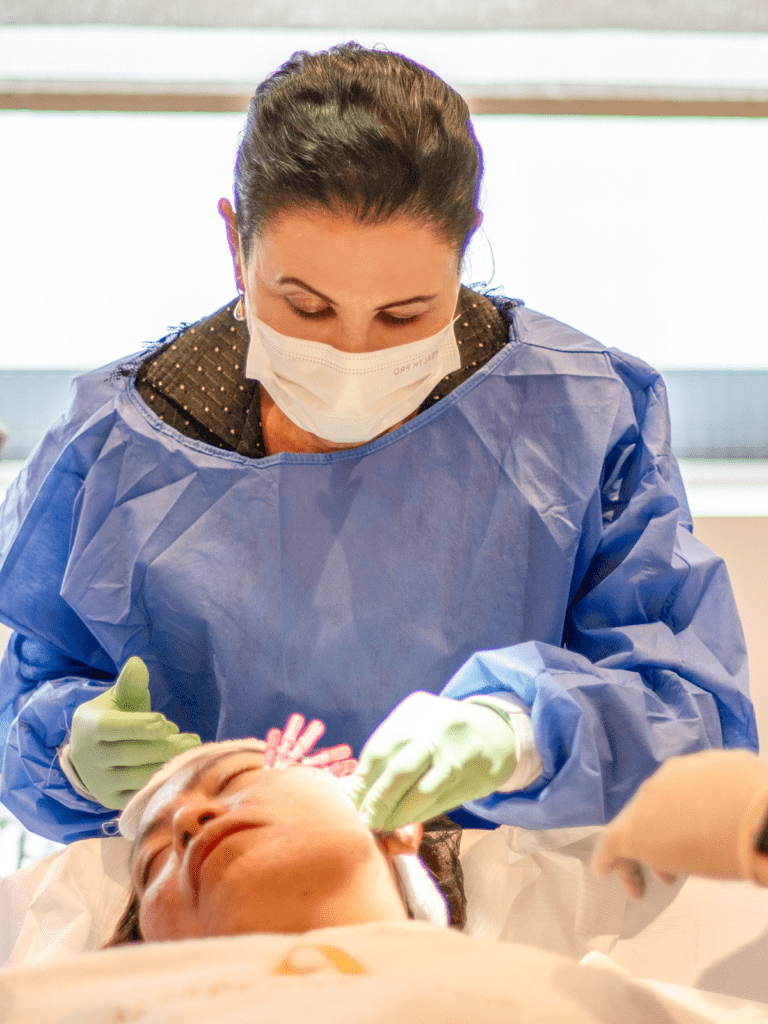 The Aesthetic Anti-Aging Fellowship initiative has been meticulously crafted to establish exacting standards and elevate clinical excellence within the domain of Aesthetic Medicine. This Fellowship program serves as a platform through which medical professionals can cultivate advanced knowledge and refine procedural skills in the realm of aesthetic procedures, setting themselves apart by their capacity to deliver optimal clinical outcomes to their patients.
The program immerses participants in the artistry of body contouring, mastery of laser and energy-based devices, and the transformative prowess of fillers, effectively redefining notions of beauty while infusing a rejuvenated youthful vitality.
The Fellowship is a six-module series internationally. The series consists of a three-module didactic lecture series, in addition to a three-module hands-on clinical training series. All courses are CME-accredited.
Didactic Modules: The Aesthetic Fellowship offers attendees expert clinical knowledge throughout Modules I-VI, via in-depth study materials, lectures from renowned Key Opinion Leaders in the field, interactive videos, expert live demonstrations, and continued access to aesthetic clinicians. Consistent updates surrounding new technologies are provided throughout the year. This portion enables attendees to be verified experts in the subspecialty, while preparing them to develop state-of-the-art treatment plans for educated consumers, and ultimately to be familiar with all aspects of Aesthetic Medicine.
Clinical Modules: The Aesthetic Fellowship offers superior procedural training in Modules IV-VI through unparalleled hands-on experience: delivered via live modules and expert physician trainers, and designed to allow attendees to achieve true procedural competence. This includes patient selection, patient education, treatment planning, procedural forms and protocols, and pre/post-procedure care. Attendees leave the clinical training with the skill and knowledge to offer patients superior clinical outcomes.
72hr comprehensive online modules
6 days of hands-on training courses in Dubai that are DHA-approved and CME-accredited.
A written exam
Live demonstrations covering all addressed indications.
Each participating doctor to treat a model for every addressed indication.
Provided case logs for each module.
| Month | Course Name | Course Details |
| --- | --- | --- |
| 25th – 28th January 2024 | Advanced Injectables Course | Click Here |
| 25th – 30th April 2024 | Aesthetic Anti-Aging Fellowship | Click Here |
| 6th – 9th June 2024 | Advanced Injectables Course | Click Here |
| 19th – 22nd September 2024 | Advanced Injectables Course | Click Here |
| November 2024 - Dates TBC | Aesthetic Anti-Aging Fellowship | Click Here |
Frequiently Asked Questions
"Highly recommended to take the A4M certification at this well-established clinic. From the clinic cleaner to the receptionist, coordinators, and the lovely director, Dr. Maria, all the staff members are professional and friendly. The clinic offers great expertise and provides excellent hands-on exposure compared to other courses. Thank you, AltaDerma team and Dr. Maria, for your great work. I look forward to seeing you again soon."
"One of the most reputable aesthetic courses in the Middle East, Dr. Maria Khattar is a highly qualified trainer and one of a kind. She imparts all her knowledge and techniques to her students and continues to guide them along their aesthetic career."
Learning aesthetics from Dr. Maria was like a dream come true. She is my mentor. After completing this course, I started Zahra's Health Clinic of Aesthetics. I dedicate this journey in aesthetics to her. She is the best instructor one could ever ask for, and I feel truly blessed. I can't wait to take Module 4B on advanced injectables.
"A life-changing course... There was great support from the trainer even after finishing the course. Dr. Maria is a role model for aesthetic trainers... highly recommended."
"Seven years ago, this program set me on track for my current career. I received great guidance and superb mentorship. All thanks to Dr. Maria and her leadership in health education, we learned valuable skills and safe practices. The course exceeded my expectations."