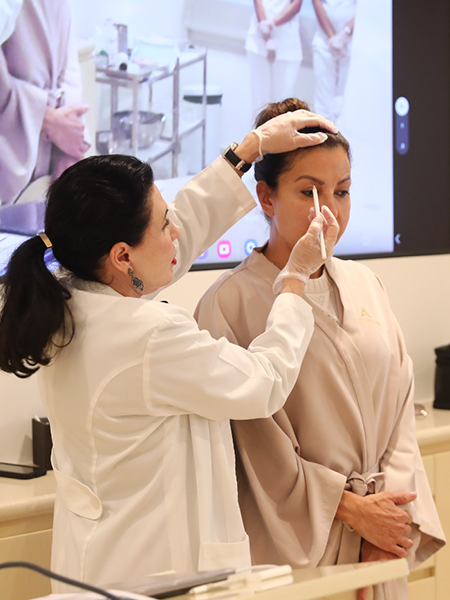 Advanced Injectables
Certification
This comprehensive certification course focuses on fillers, threads, toxins, and Platelet Rich Plasma (PRP), providing physicians with an intensive and clinically relevant update on key procedures within the sub-specialty of aesthetic injectables in aesthetic medicine. Approved by the Dubai Health Authority and accredited by A4M, this certification is a vital credential for physicians who plan to integrate or already practice these procedures, enhancing their professional profile. A4M is at the forefront of age management and longevity, driving innovation and transformative solutions that push the boundaries of what can be achieved in the field.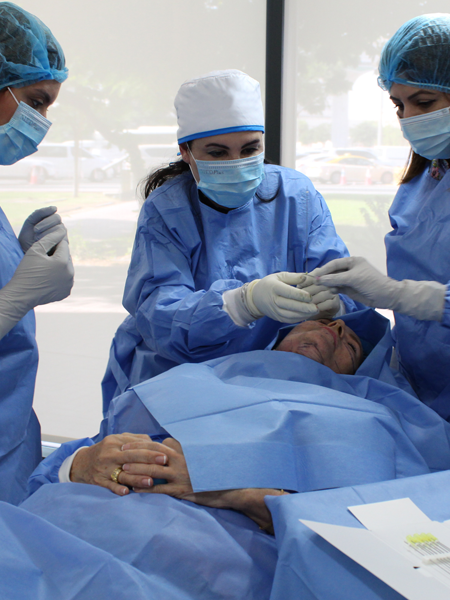 Aesthetic Anti-Aging
Fellowship
The Aesthetic Anti-Aging Fellowship program was designed to establish rigorous standards and promote clinical excellence in Aesthetic Medicine. Through this post-graduate program, doctors have the opportunity to develop advanced knowledge and procedural skills in aesthetic procedures, distinguishing themselves in their ability to deliver optimal clinical outcomes to their patients. The program delves into the art of body contouring, mastery of laser and energy-based devices, and the transformative potential of fillers to redefine beauty and rejuvenate with a youthful vitality.
| Date | Course | Course Details |
| --- | --- | --- |
| 25th – 28th January 2024 | Advanced Injectables Course | Click Here |
| 25th – 30th April 2024 | Aesthetic Anti-Aging Fellowship | Click Here |
| 6th – 9th June 2024 | Advanced Injectables Course | Click Here |
| 19th – 22nd September 2024 | Advanced Injectables Course | Click Here |
| November 2024 - Dates TBC | Aesthetic Anti-Aging Fellowship | Click Here |
Frequently Asked Questions
"Highly recommended to take the A4M certification at this well-established clinic. From the clinic cleaner to the receptionist, coordinators, and the lovely director, Dr. Maria, all the staff members are professional and friendly. The clinic offers great expertise and provides excellent hands-on exposure compared to other courses. Thank you, AltaDerma team and Dr. Maria, for your great work. I look forward to seeing you again soon."
"One of the most reputable aesthetic courses in the Middle East, Dr. Maria Khattar is a highly qualified trainer and one of a kind. She imparts all her knowledge and techniques to her students and continues to guide them along their aesthetic career."
Learning aesthetics from Dr. Maria was like a dream come true. She is my mentor. After completing this course, I started Zahra's Health Clinic of Aesthetics. I dedicate this journey in aesthetics to her. She is the best instructor one could ever ask for, and I feel truly blessed. I can't wait to take Module 4B on advanced injectables.
"A life-changing course... There was great support from the trainer even after finishing the course. Dr. Maria is a role model for aesthetic trainers... highly recommended."
"Seven years ago, this program set me on track for my current career. I received great guidance and superb mentorship. All thanks to Dr. Maria and her leadership in health education, we learned valuable skills and safe practices. The course exceeded my expectations."