Advanced Injectables Course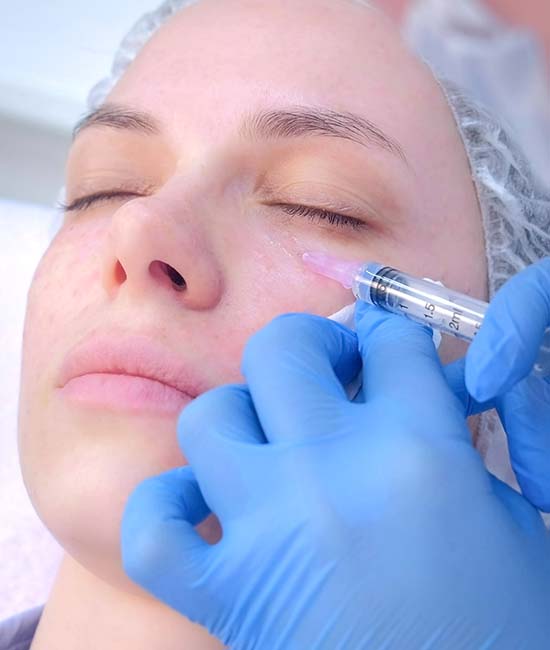 This essential certification course for fillers, toxins and PRP is designed to provide physicians with an intensive and clinical update in the key procedures that are part of aesthetic injectables sub-specialty in aesthetic medicine. Approved by the Dubai Health Authority, and accredited by the A4M, this represents the latest professional & academic credential that physicians planning to integrate or already practicing these procedures must add to their profile.
What does DHA Approval Mean?
DHA approval means that the course curriculum was approved to be compliant with training requirements set by the Dubai Health Authority towards clinical privileges allowing physicians and GPs to perform Toxin/Fillers procedures in their practice in Dubai. For more information about the process to get clinical privileges, participants should contact licensing authorities directly or A4M for guidance.

Over 30 hours of lectures on the main aspects of injectables in aesthetic practice by key global experts in aesthetic medicine.
• The aging face
• Choosing the appropriate soft tissue filler
• Hyaluronans for facial enhancement
• Facial sculpting with calcium hyolroxylapatite
• Sculptra and instalift
• Polycaprolactone-based filler
• Lip augmentation
• Upper and mid-face volumisation
• Lower-face volume restoration
• Pharmacology of botulinum toxin
• Rejuvenation with neuromodulators
• Brow and forehead treatment with neuromodulators
• Perioral rejuvenation with neuromodulators
• Periocular rejuvenation with neurotoxin
• Thread lifting: theory and indications
• 1 Online Module (24hrs)
• 4-Day 'Hands-On' Training in Dubai
• 1 Written Exam
• 1 Demo for all the indications
• 1 Model to be treated by each individual participating doctor for each indication
• 10 cases per module under supervision
• DHA approved and CME accredited
Hands-On Injectables 'Fillers, Neuromodulators for upper face' Botulinum ToxinA for Upper face | Lip & Face fillers| PRP
• The science of beauty: Ideal facial geometry and proportions
• Concept of facial contouring and how to achieve beauty
• Morphological changes of the ageing face
• Essential anatomy and procedural strategies for safe injections
• Standardisation of soft tissue filler injections and treatment planning: Tear trough, zygoma, nasolabial fold and lips
• How to ensure safe injection technique and how to avoid complications
• Learning to inject at various depths: supra-periosteal, subcutaneous and intradermal levels
• Overview of soft tissue fillers in Aesthetic Medicine
• Filler injection procedure and techniques : Use of Cannula and Needles
• Platelet Rich Plasma: safety, aesthetic applications and indications of PRP
• PRP scalp applications
• History and basic science of BotulinumtoxinA
• Anatomy of upper face neurotoxin target muscles
• FDA approved indications for BotulinumtoxinA
• Reproducible treatment algorithm for upper face BotulinumtoxinA injections
• 1 Online Module (24hrs)
• 4-Day 'Hands-On' Training in Dubai
• 1 Written Exam
• 1 Demo for all the indications
• 1 Model to be treated by each individual participating doctor for each indication
• 10 cases per module under supervision
• DHA approved and CME accredited
Advanced Hands-On Injectables 'Fillers, Neuromodulators & Thread lifting' Advanced Face Fillers |Thread Lifts
• Choice of soft tissue fillers in facial contouring with emphasis on biostimulating fillers
• Advanced filler injection techniques: Temples, submalar area, marionette lines, pre-jowl sulcus, post -jowl definition and chin contouring
• In depth review of complications with soft tissue fillers: prevention, recognition and management
• Knowledge of anatomy and location of blood vessels, facial danger zones. Correct injection depth to avoid vascular level.
• Fillers for hand rejuvenation
• Botulinum Toxin A – off-label indications
• Anatomy of lower face neurotoxin target muscles
• Thread-lifting in aesthetic medicine
• Thread types and methods for biostimulation and face lifting
• Contra-indications and complications of threads lifting
• Managing a successful aesthetic practice: how to develop a strong brand
• 1 Online Module (24hrs)
• 4-Day 'Hands-On' Training in Dubai
• 1 Written Exam
• 1 Demo for all the indications
• 1 Model to be treated by each individual participating doctor for each indication
• 10 cases per module under supervision
• DHA approved and CME accredited